Islami Bank Limited Bangladesh Job Circular 2017
Islami Bank Bangladesh Limited Job Circular 2017 has been found from bdjobs online job portal and also find on my website  BD Jobs Careers. Islami Bank Bangladesh Ltd (IBBL) is one of the largest and top commercial private (non government) bank in Bangladesh. It was founded in 1983.MD. Abdul Hamid Miah is the Managing director of this bank. The Islami Bank is Providing Full Range of Finical Banking Services in all over the Bangladesh with 11,381 employees and 6,000 shared ATM network. The Islamic Bank Key Services are Banking services, ATM services, Internet Banking, Payment Gateway, Mobile Banking, Consumer Banking, Corporate Banking, Investment Banking, etc. In recent time the Islamic bank limited Bangladesh looking for smart, team-oriented people who want to be a part of commercial Banking players that gives peoples' best banking services and with to meet their financial goals.The Islami Bank Bangladesh Limited has been publish new job circular 2017 Post Name: Assistant Officer Gradr-I . This Application published date 13 April 2017 and Application Deadline 30 June, 2017. So Why Late? Check Bank Requirements and Apply Now!!  
Bank Name: Islami Bank Limited Bangladesh 
Post Position Name: Assistant Officer Grade-III (General), Assistant Officer Grade-III (Cash) and Temporary Messenger (Yearly renewable)
Job Published Date: 10 June 2017
Application Deadline: 30 June, 2017.
Salary:26000 to 32000/-
Educational Requirements: Masters, Honers, S.S.C For Temporary Manager
Experience Requirements: N/A
Number of Job Vacancy: N/A
Job Location: Anywhere in Bangladesh
Job Source: Kaler Kantho and Observer Newspaper.
Job Nature: Full-time
Job Type: Banking (Islami Bank )
Employment Type: Permanent Job
Gender: See Circular image.
Other Benefit: As per policy of the bank.
Applying Procedure: Eligible and interested Candidates shall apply through online (career.islamibankbd.com) with scanned passport size photograph (100 kb) starting from June 12, 2017 latest by June 30, 2017. The procedure of filling in the 'Online Application Form' will be available at the mentioned website.
See Islami Bank Limited Bangladesh Job Circular 2017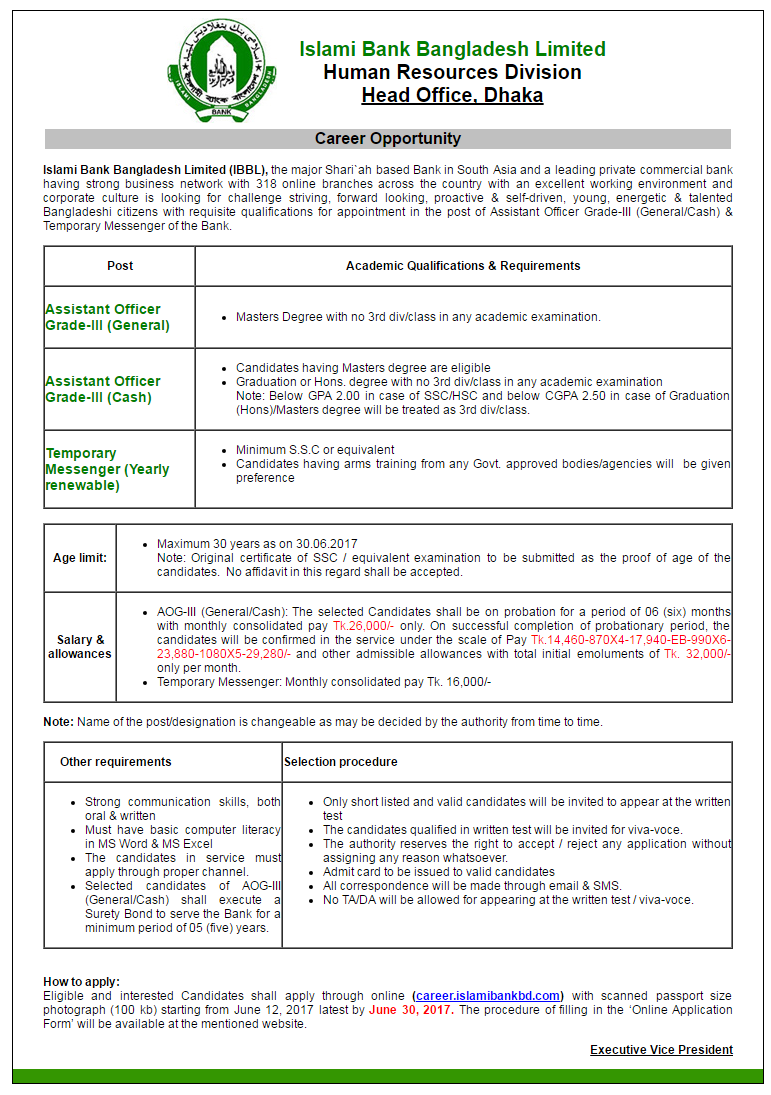 The Islami Bank Limited Bangladesh wants to individual smart people who are interested with the private bank job and wish to join a dynamic team environment. No, doubt, the Islami Bank Limited Bangladesh job 2017 is a great career opportunity for experienced job seekers. If you need to more information about Islamic Bank Jobs 2017 please visit to go Islami bank official website link-.www.bdjobs.com/ibbl. Well, if you are interested for Islamic Bank job 2017, please, to preserve all of application process which helps you will get bank job, here, we are already mentioning all of application requirements' with job circular image. So why late, apply as soon as possible. Hope you will get the city bank job 2017
If you want to latest bank jobs circular 2017, visit BD Jobs Careers Website Daily Basis also like Official Facebook Page and Join Facebook Group. To get various types' job circular news such government jobs circular news, private jobs, international jobs, career tips and tricks, public and jobs exam result and career build up resources etc. Thanks