Shamsul Alamin Real Estate Ltd Job Circular 2019  has been published in the daily online newspaper and to get form the BD Jobs Careers with  all of the necessary information such as  job circular image, published day, application limit, salary, applying process etc. Anyway, we would like to inform you that, the Shamsul Alamin Real Estate Ltd is one of the best renowned Real Estate Development Company that work on Building Technology.  Now the company hires new job holder for their null vacancy, however, if you are interested private sector jobs in Bangladesh, you can check out added info by given the most popular job circular website. Anyway, after reviewing if you think you are right candidate for this job please submit your application by maintain applying procedure.
■ Organization Name: Shamsul Alamin Real Estate Ltd
■ Post Position Name: Manager (Sales), Executive (Sales) and Management Trainee Officer (Sales)
■ Job Published Date: 30 March 2019
■ Application Deadline: Apr 15, 2019
■ Salary: Negotiable
■ Educational Requirements: See Job Circular Image
■ Experience Requirements: See Job Circular Image
■ Number of Job Vacancy: 03
■ Age Limit for Jobs: 18-30 Years
■ Jobs Location: Anywhere in Bangladesh.
■ Job Source: Prothom Alo Newspaper
■ Job Nature: Full-time
■ Website: N/A
■ Job Type: Private Origination Job
■ Employment Type: Permanent Job
■ Applying Procedure: Follow Job Circular Image.
See Shamsul Alamin Real Estate Ltd Job Circular 2019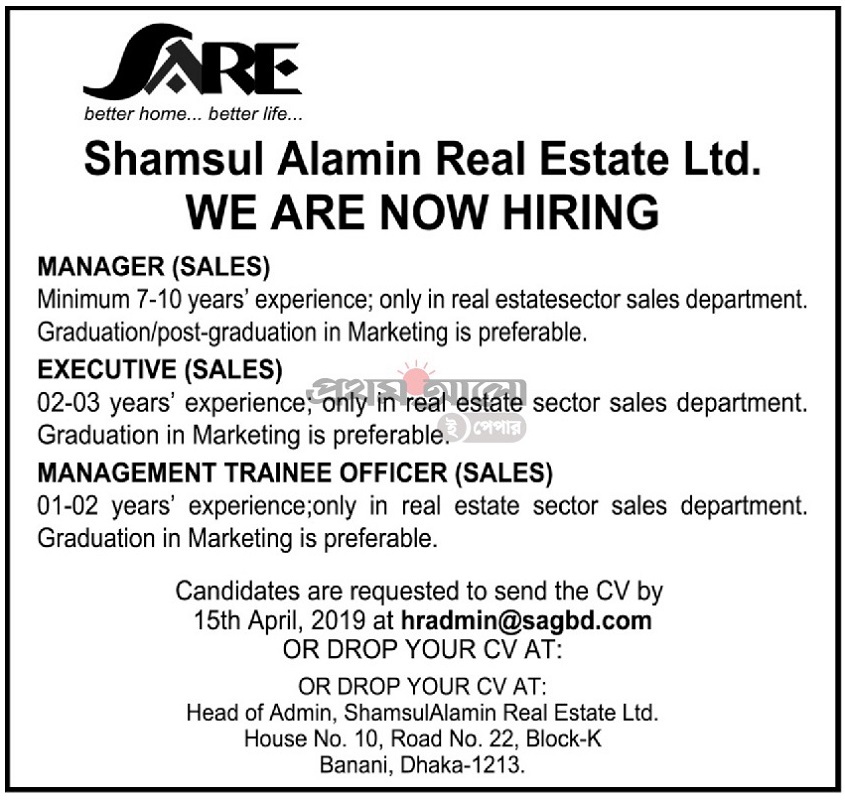 For the user , we have been proving  all types latest job circular news including real estate company job circular, weekly jobs newspaper in Bangladesh, all newspaper jobs today in Bangladesh, today newspaper jobs in Bangladesh, navana real estate job circular, abc real estate job circular, real estate job in Bangladesh, borak real estate job circular, asset development job circular, , asst manager real estate job Dhaka Bangladesh, real estate and developers company marketing job in Bangladesh, private and public jobs in Bangladesh, private company job circular in Bangladesh, , medical promotion officer jobs in Bangladesh, prothom alo jobs in pharmaceuticals 2019, available government jobs in Bangladesh, government job advertisement in Bangladesh, private jobs and international jobs information, career tips and tricks, public and jobs exam result and share faithful career build up resources etc. if you want to more thing please reply in comments box. Connect with us as a like Facebook page and join the Facebook group for getting time to time update news bulletin.