Attorney General's Office Job Circular 2019 has been published in daily job portal and to get form the best job website with all of necessary information like job description, published date, deadline, salary etc.  Anyway, for the user help, we would like to inform you that, The Attorney General of Bangladesh is the Bangladeshi government's chief legal adviser, and its primary lawyer in the Supreme Court of Bangladesh. The Attorney General is usually a highly respected Senior Advocate, and is appointed by the ruling government.
However, good news is, now the govt organization looking various position new job holder for their office. If you are interested recent government job, please check this one by given bd jobs careers and submit your application.
■ Organization Name: Attorney General's Office
■ Post Position Name: As per circular
■ Job Published Date: 29 October 2019
■ Application Deadline: 18 November 2019
■ Salary: N/A
■ Educational Requirements: See Job Circular Image
■ Experience Requirements: See Job Circular Image
■ Number of Job Vacancy: N/A
■ Age Limit for Jobs: 18-30 Years
■ Jobs Location: Anywhere in Bangladesh.
■ Job Source: Prothom Alo Jobs
■ Job Nature: Full-time
■ Job Type: BD Govt Job
■ Employment Type: Permanent Job
■ Applying Procedure: See Job Circular Image
Attorney General's Office Job Circular 2019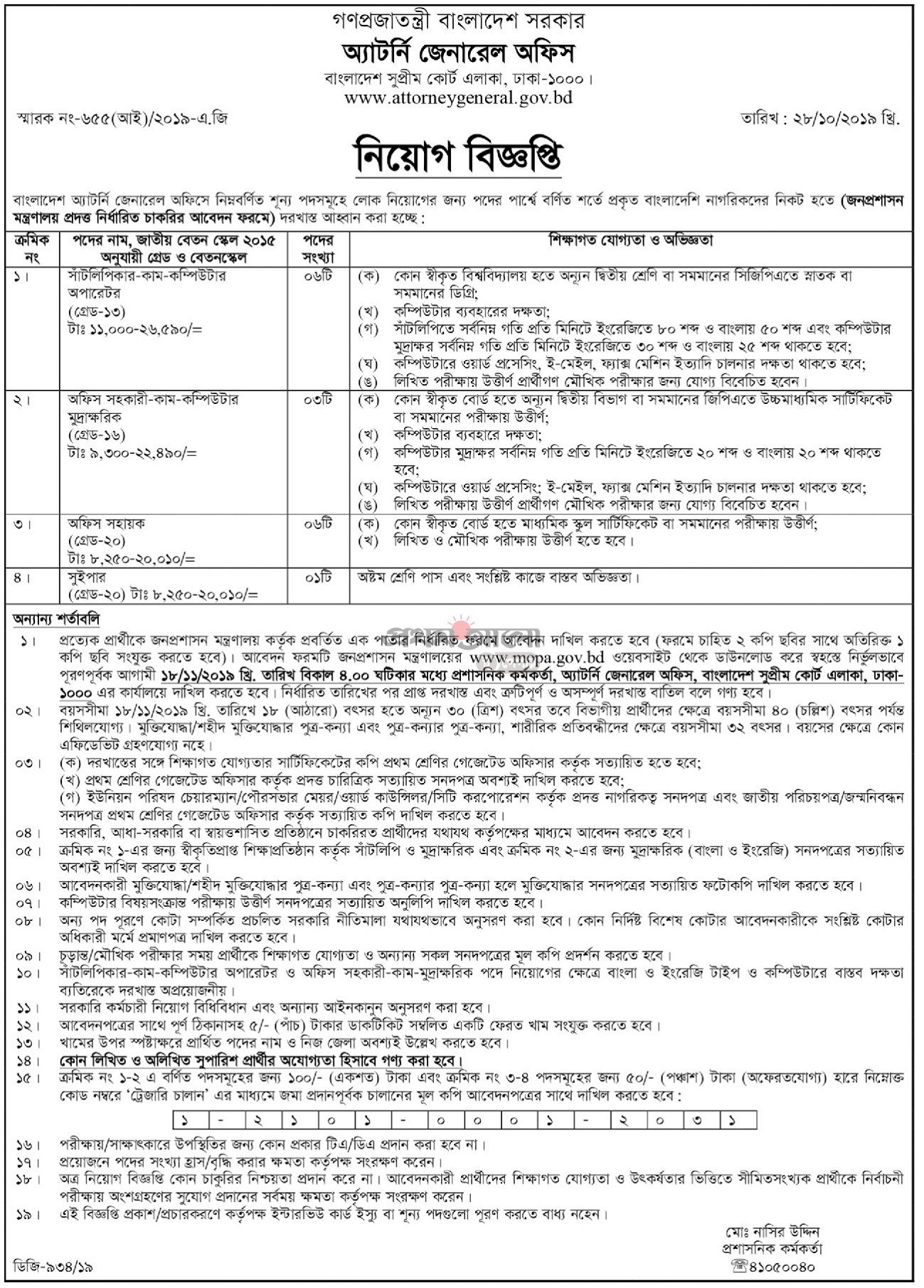 If you want to more latest government job news, please check our website in every moment, where we have been sharing trending employment news such as, daily job news, today job news, bd jobs, all jobs, Dhaka jobs, part time jobs, job for female, private job, job for male, bank jobs, job for students, company job, NGO Job, new job, and many more.  For live update to connect with the Facebook Page and Facebook Group. Thanks for your time being, don't forget share with others who are searching job.